Relief Canning Kidron, Inc. Kidron, OH
Welcome to Relief Canning, Inc., Kidron (Non-Profit)
Mennonite Central Committee recently reported a staggering figure: 4 billion people are at risk of hunger as food prices rise beyond their reach. This Spring, the price of rice has doubled, reports the World Food Program. Global food prices have risen 40% in nine months and 80% in three years. ABC TV reported that every 4 seconds a child dies from hunger.This crisis has varied causes: Cost of fuel, poor weather, political unrest or loss of financial security. We too, in North America, feel the pinch of inflation at the grocery store and the fuel pump. But our complaints fade in comparison to the World's poor. LOVE and COMPASSION -- how can we show it, how can we share it?
THANK YOU DONORS, PRAYER GROUPS & VOLUNTEERS!
Akron, Apple Creek, Berlin, Canton, Central Christian, Cleveland, Kidron, Columbus, Dalton, Kidron, Lorain, Marshallville, Medina, Middlefield, Orrville, Shiloh, Wadsworth and Wooster
(Counties of Ashland, Cuyahoga, Franklin, Geauga, Holmes, Lorain, Medina, Richland, Stark, Summit, Tuscarawas & Wayne)
"Were You There to Prepare MCC Canned Bonless Turkey and/or CAM Soup Bagging for Starving People?"
THANK YOU!
© 2019 Relief Canning, Inc. Kidron, Ohio
Updated Jan. 2019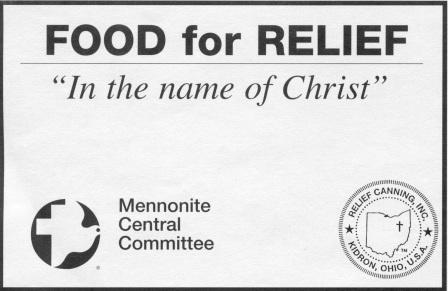 NEWS UPDATES
2018 Canning Report:

Produced 11,541 Cans |20,000# of Boneless Turkey Thighs
Reduced local distribution less than 5% Units (Distributed by MCC in US & Globally)
2019 Canning Dates:
Coming Soon!
---
MANNA FOR MANY: An Anabaptist Mission
Currently, we are bagging 5 meal servings of dehydrated vegetable-barley soup or rice pilaf. Learn More
---
We are looking for help acquiring copies of news articles and photos of previous years of canning. We are also looking for people to help compile a listing of individuals that Served as a Volunteer in Relief Canning, Inc. during the past 66 years!! Contact Jess if you have any information you would be willing to share!
PAST CANNING REPORTS
2017 - Produced 19,551 Cans of boneless cooked turkey from 30,000#
2016 - We plan to purchase 30,000# (an increase) of turkey and need donations of $59,000.
2015 - We processed 25,000# to produce 13,851 cans plus 1000 cans distributed to local food pantries. Turkey cost was $1.42/lb. Our new mobile canner streamlined our operation production. We want to express our appreciation of your support of MCC Relief Canning in 2015 with your prayers, contributions and volunteering.

2014 - We processed 25,000# of bonesless turkey which made 14 cans/units.


2013 - $31,500.00 needed to purchase 25,000# @ $1.26 per lb. of boneless turkey thigh meat, an additional $17,000.00 is needed for aluminum cans, lids, labels, boxes, fuel, insurance, supplies and shipping!!! Your help is needed, please donate $90.00 for one (1) box of 24 cans of cooked boneless turkey thigh meat. Your
donation is tax deductible - click on
donate
link. Relief Canning, Inc., Kidron is not-for-profit -
volunteer
now!
2012 - Donations needed to purchase 25,000# turkey & pay MCC $15,000 for cans, mobile canner, boxes and shipping!!
2011 - Reduced turkey Purchased to 20,000#
Thank you to all the donors and volunteers for another successfull year of canning! The 20,000# of turkey produced a total of 11,243 cans.
2009 & 2010 - Reduced Production by 25% due to drop in donations.
2008 - a record mobile
canning year! Read more....
Mennonite Central Committee has ministered to the hungry and needy (2006) in 26 different countries, distributing over 700,000 cans of turkey. Here in our community (2007) of northern Ohio we distributed over 1200 cans of turkey; and in 2008, over 1900 cans to hunger centers. Over 18,000 cans of turkey were distributed in Peru and S. America following the earthquake. This is given with other foods and grains.
CANNING INFORMATION